Full Name:Alexander Johan Hjalmar Skarsgård
Date of Birth: August 25, 1976
Place of Birth: Stockholm, Stockholms län, Sweden
Parents: John Stellan Skarsgård, My Skarsgård
Siblings: Gustaf, Sam, Bill, Eija, Valter, Ossian, Kolbjörn.
"I don't want people to know too much about me. It's easier for people to suspend belief that way. There's a risk when people
see you in a part and they're watching Alexander Skarsgård. Also, I learned from my father to keep your integrity and protect
your family...there are certain things that you can talk about and certain things you shouldn't talk about." - Alexander Skarsgård.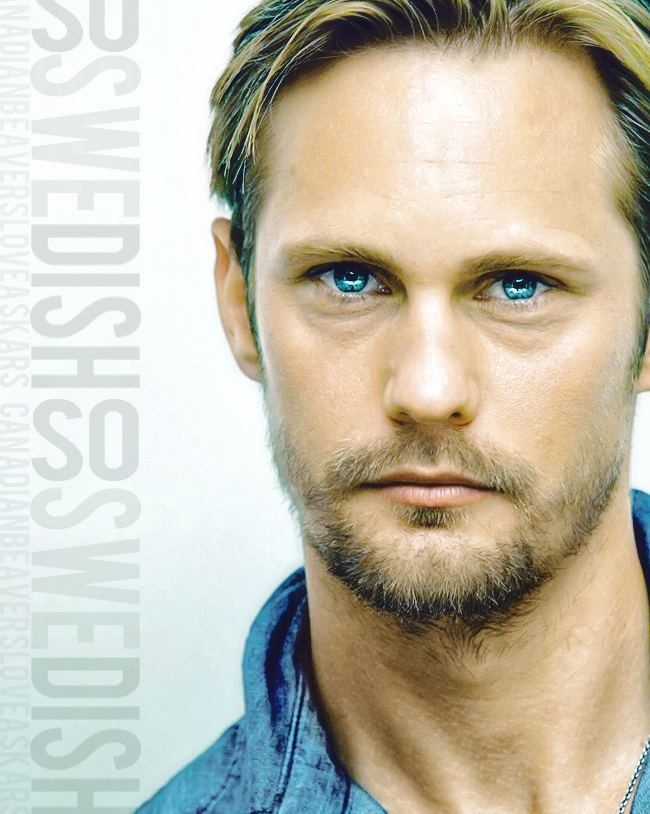 Photo edit by:
http://canadianbeaversloveaskars.tumblr.com/
Alexander Skarsgård is a Swedish actor, in 1984 at seven years of age, Alex appeared in his first film, an adaptation of the popular
children's book Åke and his World. It was at the age of 13 that he had his breakthrough role in the 1989 film "The Dog That Smiled".
This is when Alex first gained national notice as an actor, something he wasn't really prepared for.  Alex was freaked out over his new
 found celebrity, it was then that he chose to back away from acting, saying, "The fame was scary to me," he recalls. "When people stare
 at you and you read about yourself in papers at 13, it just got very confusing. I thought that, if this is what it's like to be famous, I don't
 like it one bit." He quit acting for the next 7 years.
He joined the Swedish marines at the age of 19 and spent 15 months serving in an anti-terrorist squadron. Once his conscripted service
was over, Alex then went to Leeds Metropolitan University for about 6 months, then it was off to New York to study theater at Marymount
 Manhattan College for about a year.
Once he realized how much he missed acting he returned to Sweden to get back into the business. Alex did some Swedish films and
television roles, but he wanted more. Shortly after moving to the United States he made his American film debut in Zoolander.
Though he was very successful in Sweden and had landed a small part in Zoolander, it was a mini series on HBO that brought him the
 most attention. Alex portrayed Marine Sergeant Brad "Iceman" Colbert in the acclaimed HBO miniseries Generation Kill.
Here is a "did you know fact" Alex almost lost his chance for True Blood! He was still filming Generation Kill and couldn't make
 the scheduled auditions. Thankfully there was a writer strike going on and that held back production of True Blood long enough to
 give Alex a chance to do a reading.